In the past 20 years, Ventec has consolidated its position in the market as a traditional supplier of integrated solutions and know-how, for several industrial sectors, in the areas of environmental control and industrial ventilation.

The company was founded in 1987 by a group of professionals who had great experience in the areas of Industrial Ventilation and Pollution Control, were committed to innovation, and wanted to create a company, which was modern and totally dedicated to meeting the needs of the market. Ventec has built its assets through partnerships with renowned clients both in Brazil and abroad, by demonstrating technical and managerial capabilities in the supply of equipment, inhalations and services.
Quality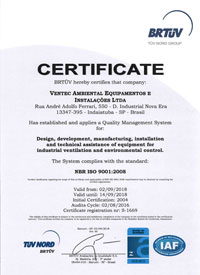 Quality has always been an integral part of Ventec's processes, services and products. Our respect for quality was consolidated in October 2004 when the company was certified with NBR ISO 9001:2008.
Our management system focuses on satisfying the needs of clients and exceeding, whenever possible, their expectations. This is an individual commitment of all our associates, who continually undergo training to consolidate these premises, which are the basis of our organization business profile.
All of our processes, services and products are executed to show their efficacy through measurable objectives applied to performance indicators related to our Quality Policy.
At Ventec Quality does not mean only the activities related to product quality guarantee, but it is all encompassing, including performance management focused on clients' interests. This concept also guides our commitment to the environment, to professional growth, satisfaction of our personnel, as well as Social Responsibility.
Awareness, hard work and participation
By constantly increasing the technological level of its products, Ventec can provide modern and innovative solutions for a myriad of environmental pollution problems, thus working to improve the quality of the air we all breathe.

For Ventec, ethics and transparency are much more than meaningful words, but values, which are rooted in the background of our associates and in the organizational culture of our team.

Our success is built with ample participation of all our associates, both internal and external, at all levels, who help maintain our commitment to the pursuit of our goals.

This behavior is consolidated by the continuous renovation and acquisition of values, which aims at guaranteeing continuous modernization and recognition, not only by what the company achieves, but also by the way things are done.
The training and development of our associates are considered investments for the company. Our main goals are: training of specialized labor, dissemination of corporate culture, and fostering the personal and professional growth of our associates.